Most of us grow up and eagerly await the day when we will meet the person of our dreams, be swept off our feet and live happily ever after. That was my plan. I pined away for years, so excited for my soul mate to come along. I thought that once this happened, my life would be complete. I got married at 26 and was so excited to begin a married life of bliss. I was sure that he was going to make me very, very happy. 'Til death do us part. It doesn't quite work that way, does it?
15 years later, I'm still married. I can honestly say that I am still deeply in love with my husband, but we have had our share of rocky times. My love for him is a direct result of a lot of personal work. In fact, there have been more than a few times when I've wondered, "Can we make this work?" Rather than full-time bliss, marriage can feel like a hell of a lot of work. I've learned a lot through my marriage. In fact, it's been an area of my life that has forced me to grow more than anything else I've done (except for parenting, but that's a whole other blog post). Most of my marriage was spent with the expectation of getting my needs met by my husband. I wanted him to make me happy. Most of us are never taught that what we truly need is to learn to court ourselves, to focus on our own passions, happiness, and self-care. It was a really huge wake-up call for me when I realized that I had given away my power. I realized that instead of taking responsibility for my own happiness, I had given this job to my husband. Guess what? Neither of us were satisfied with this. He never signed up for the job of taking care of all my needs, and I unwittingly felt dissatisfied unless he was doing exactly what I wanted him to do to make me happy. It was a lose-lose.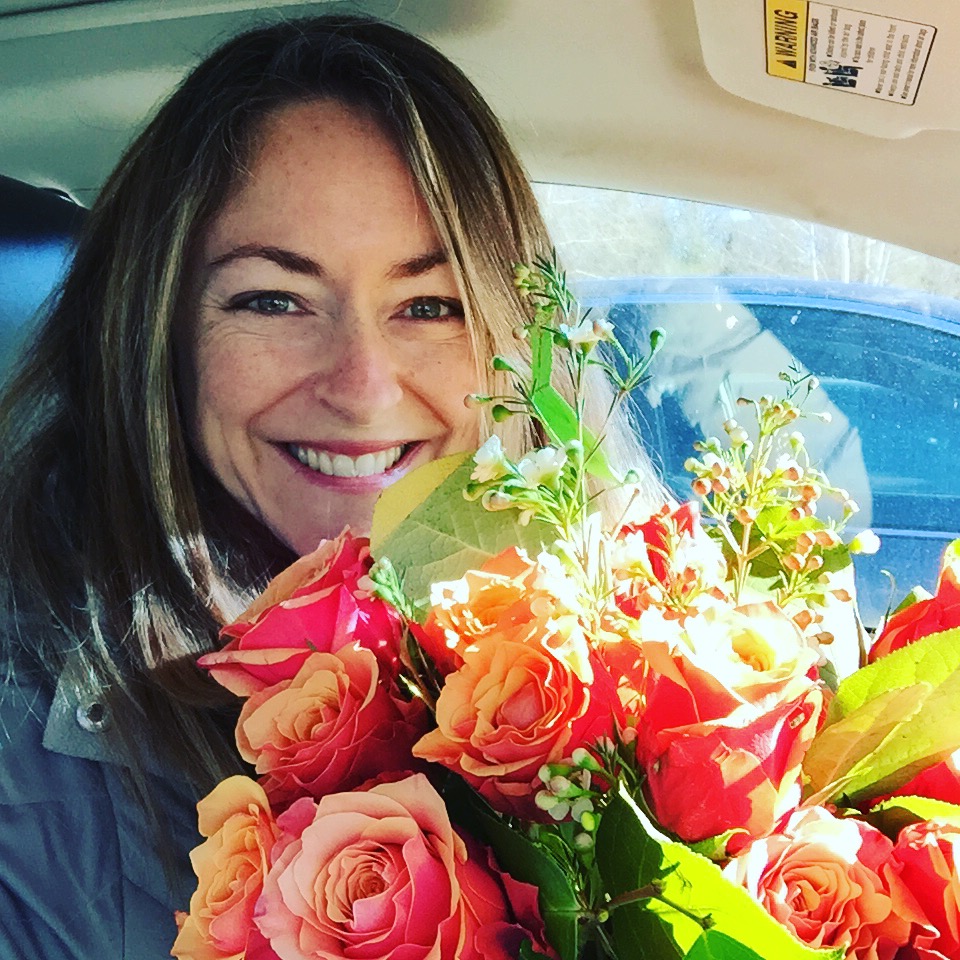 Developing our relationship with ourselves is the first step. Regardless of whether or not you are in a relationship, your relationship to yourself is the most important relationship you will ever have. When we focus on what we can do to make ourselves feel loved, cared for and appreciated, we are able to share our lives with someone else in an equal partnership, if that's our choice.
The easiest place to start is to ask yourself, "What am I waiting for my husband/boyfriend/girlfriend/wife/partner to do for me?" When you get your answer, go do it for yourself. Secondly, ask yourself: "What makes me feel happy? Replenished? Cared for?" Then go do that!
I'll share some ideas with you:
Buy yourself flowers and put them somewhere special. Revel in getting them. Pick your favorite colors and textures. Acknowledge that you are worth it. That you deserve beautiful gestures. Receive this love from yourself.
Dress yourself up and take yourself out to your favorite restaurant. Spend some time getting ready and look hot for you. Order something delicious and savor every bite, slowly. Drink something delicious…slowly. Take your time and milk every moment.
Treat yourself to a small gift. Perhaps some incense or a candle and fill your home with something beautifully fragrant. Or a bottle of special body lotion that you've been waiting someone to buy you for your birthday.
Get yourself a massage, or a reiki session. Something that will help you feel relaxed, pampered and cared for.
Treat yourself to a bath with bath salts, your favorite essential oil and do it by candlelight. Luxuriate in the peace and quiet, honoring your body and all it does for you everyday.
These are just some ideas and I have to admit that writing this just got me so excited to go get myself some flowers today! I'd love to hear your ideas, so please share your favorite self-dating practice in the comment section below.
Here's to celebrating YOU!
With so much love,
P.S. If you're a Highly Sensitive Person and would like some tips on empowering your own Inner Badass,
I've written a special FREE eBook just for you.
Free eBook: From Highly Sensitive Hot Mess to Highly Sensitive Badass: 8 Steps to Empowerment for Highly-Sensitive People, Empaths and Intuitives.
Simply sign up below and it will be delivered right to your inbox! You'll also get my blog posts delivered via email.
Click HERE to sign up now!
Cortney is a transformational coach, writer, speaker, mentor for Highly Sensitive Badasses TM, and founder of the coaching program: The Sensitive Badass Badass Personal Coaching Program and the Sensitive Badass Sisterhood. She is passionate about helping women tap into their unique brilliance through divine self-care so they can live their highest purpose and reach their full potential. She offers private and group transformational and empowerment coaching programs for highly sensitive and empathic women.

Cortney earned a B.A. from Vassar College in Art History and a Masters of Architecture from Catholic University. Following her heart later in life, she became certified as a health coach with the Institute of Integrative Nutrition. She became a "health architect," dealing with her own health crisis and struggle to manage anxiety and depression. She is also a proud graduate of Mama Gena's School of Womanly Arts Mastery program, a NYC institution that teaches women to use the power of pleasure to have their way with the world.

Cortney lives in Baltimore with her 2 kids, her dog and her husband. A passionate traveler, photographer, gardener and foodie, when she isn't dancing or listening to music (her favorite things!), Cortney is all about engaging all of her senses in service to her inner badass—and awakening the inner badass in every highly sensitive person she encounters!

Are you Highly Sensitive? Take the quiz at thehighlysensitivebadass.com