Hi, fellow HSP. I'm so glad you're here.
This blog post is going to be short, simple, sweet. It's a message we all need to hear because I believe that most of us have grown up thinking that we are defective in some way. We believe that somehow "other" people are functioning just fine, living in the world without issue, handling everything that comes their way with grace. HSP's have internalized a feeling of being different, outsiders, black sheep and that their version of different makes them wrong.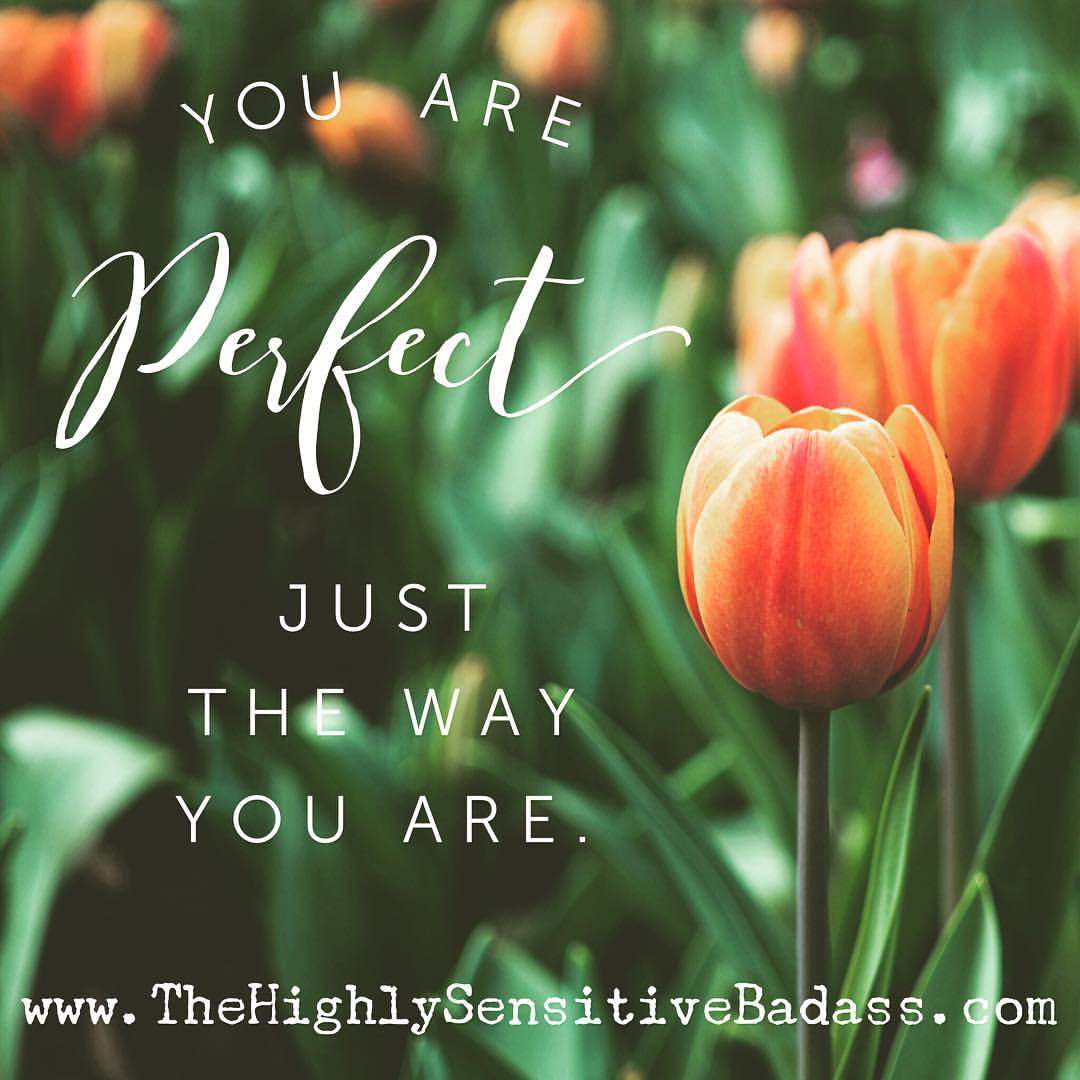 This is just not true. We all hide our inner sense of "wrongness" very, very well. Whether we are HSP's or not, most of us carry around a burden of feeling that somehow, we are less than other people. We compare ourselves to fantasies we create for what other people's inner lives are like. We fall short of the impossible standards of perfection we set for ourselves, assuming very wrongly that we are the imperfect ones.
But here is what I really want to say to you:
There is nothing wrong with you.
You are not broken.
You are not defective.
You are not the only one who feels like they haven't figured it all out.
You are beautiful just the way you are.
You don't need to change, to become perfect in order to find happiness.
You are already perfect in your glorious imperfection.
You are whole, with both your dark sides and your light sides.
There is nothing wrong with you.
You are beautiful.
You are loved.
You matter.
That's all.
With so much love,
P.S. If you're a Highly Sensitive Person and would like some tips on empowering your own Inner Badass,
I've written a special FREE eBook just for you.
Free eBook: From Highly Sensitive Hot Mess to Highly Sensitive Badass: 8 Steps to Empowerment for Highly-Sensitive People, Empaths and Intuitives.
Simply sign up below and it will be delivered right to your inbox! You'll also get my blog posts delivered via email.
Click HERE to sign up now!
Cortney is a transformational coach, writer, speaker, mentor for Highly Sensitive Badasses TM, and founder of the coaching program: The Sensitive Badass Badass Personal Coaching Program and the Sensitive Badass Sisterhood. She is passionate about helping women tap into their unique brilliance through divine self-care so they can live their highest purpose and reach their full potential. She offers private and group transformational and empowerment coaching programs for highly sensitive and empathic women.

Cortney earned a B.A. from Vassar College in Art History and a Masters of Architecture from Catholic University. Following her heart later in life, she became certified as a health coach with the Institute of Integrative Nutrition. She became a "health architect," dealing with her own health crisis and struggle to manage anxiety and depression. She is also a proud graduate of Mama Gena's School of Womanly Arts Mastery program, a NYC institution that teaches women to use the power of pleasure to have their way with the world.

Cortney lives in Baltimore with her 2 kids, her dog and her husband. A passionate traveler, photographer, gardener and foodie, when she isn't dancing or listening to music (her favorite things!), Cortney is all about engaging all of her senses in service to her inner badass—and awakening the inner badass in every highly sensitive person she encounters!

Are you Highly Sensitive? Take the quiz at thehighlysensitivebadass.com